Deinze (BE), London (UK), Barcelona (ES), 14 December 2022 – Aluvision, innovative manufacturer and global player in creative aluminium and LED solutions, and Aztec Event Services, an International Event Production company that delivers unique branded experiences to the corporate event and exhibition industries, announce they are extending their existing collaboration in the UK to mainland Europe, in Spain and the Iberian Peninsula.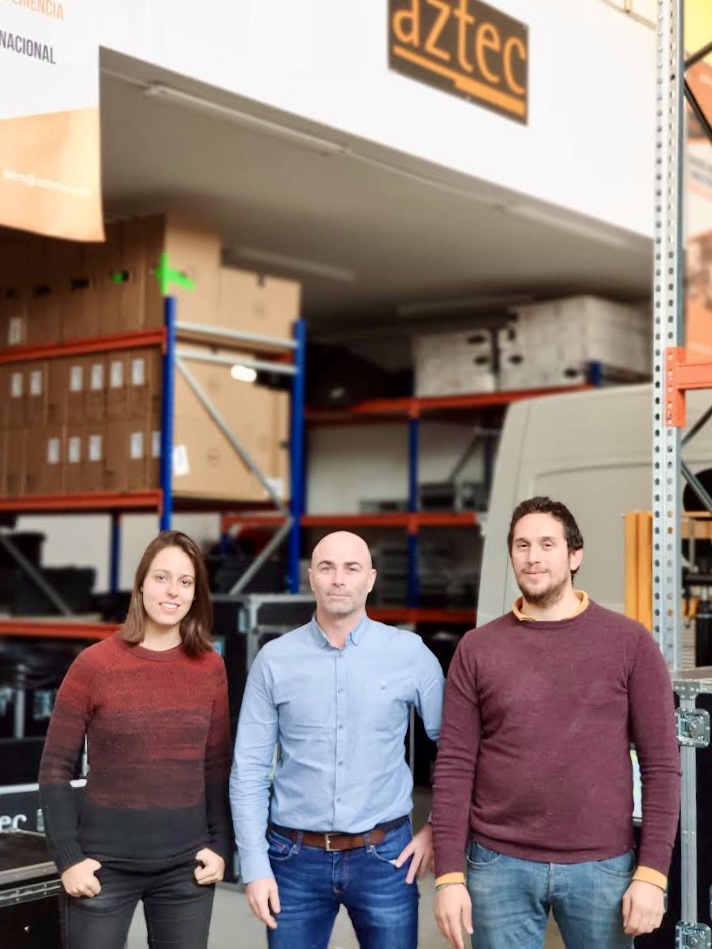 The collaboration includes an investment in 240 HI-LED 55 tiles, with a 2.8 pixel pitch. The award winning Hi-LED 55 tile is the thinnest LED tile available, which can be seamlessly incorporated into a modular system. Its unique dimensions of 496x496x55 mm ensures compatibility with the original Aluvision system. The 2.8 pixel pitch and premium level of flatness guarantee a brilliant visual experience and superior image quality. An absolutely top AV product for indoor events and trade shows.
Extending a successful partnership.
"We are very glad to be working with Aztec Event Services in the UK. We are, therefore, particularly pleased to extend this partnership to the Iberian Peninsula. Aztec is a very important partner for Aluvision, their expertise and knowledge of the international event industry – with a strong focus on creative LED solutions – makes them one of the leading companies in the business", says Emmanuel Hamelinck, International Sales Director for Aluvision. "The investment by Aztec also shows that event technology companies within the events and exhibitions sector are partnering and supporting each other across national borders. An evolution we encourage from within Aluvision, and support wherever possible," Hamelinck adds.
Aztec's Managing Director, John Robson commented "When we first started working with Aluvision, it became obvious very quickly that we were dealing with something pretty special. This additional investment is testament to our faith in the Aluvision range of products. We are particularly pleased to be their first AV partner in the Iberian peninsula where we are experiencing strong growth and where we see excellent opportunities for the Aluvision system and LED panels"
Joe Archard, Director of Aztec Events Europe said he is "thrilled that we can now supply our clients with the same sustainable Aluvision LED and modular framework solution as Aztec's UK business, but now from the Barcelona branch. This continued investment extends our offering and ensures that all our clients now benefit, whether this be UK based clients holding events in the EU or our homegrown clients here in Spain."
Important for all of southern Europe
Expanding the operations of Aztec beyond Spain is important for the company. Not only is Spain a country that hosts a number of important trade shows and events, it is also an excellent base in which to service the entire Iberian Peninsula and the southern part of mainland Europe.
About Aluvision
Aluvision is an innovative manufacturer and global distributor of high-performance modular systems for indoor & outdoor environments and events, a global player in creative aluminium applications. Thanks to production units in Europe (Belgium – Deinze) and the US (Atlanta Duluth), global export and service is one of our greatest strengths. Our innovative approach makes our indoor & outdoor solutions a healthy mix of elegance, efficiency, profitability and durability.
About Aztec Event Services
Founded in 1989 with operations in south London and Barcelona, Aztec has established an enviable reputation in live events, providing technical production and creative services to all types of events literally all over the world. The company is renowned for using its technical expertise to enhance the client experience, and thrives upon creating innovative solutions for live events, ensuring that each experience is on brand, on message, and engages with its target audience.
For the latest news on Aluvision:
www.aluvision.com/linkedin | Facebook | Instagram
For the latest news on Aztec Event Services:
www.aztecuk.com/linkedin | Facebook | Instagram
For information, contact:
Aluvision:
Frank Vanmeenen
Marketing Manager Aluvision
Telephone +32 470 604 179
Aztec Event Services:
Lisa Tyson
Account Director
+44(0)20 7803 4000
Aztec Events Europe:
Joe Archard
Director
+34 933 607 477