VIRTUAL EVENTS
for your ON BRAND, HIGH-PROFILE virtual EVENTS THAT LOOK AND SOUND AMAZING
Experience has taught us that some standard virtual meeting software options are great to connect and maintain business relationships, however they may not be the most suitable to help your brand maintain its tone of voice and give a fully bespoke experience to be memorable.
An increasing number of our clients is choosing branded virtual events to make sure they keep their message on brand and the event experience immersive and that can be customised to the specific purpose of the event like an award, conference or product launch. Our studios in Chessington can create bespoke visually appealing and immersive virtual experiences, and help you engage with your delegates fully.
The flexibility and versatility given by the green studio backdrop we have set, together with our professional operators and creative team, means that the options that can be covered and tailored are almost limitless.
why aztec virtual events?
To host awards, conferences, interviews or seminars that need a branded and more immersive interactions with the delegates.
To replicate a physical environment when meetings or travelling is not possible
To broadcast (live or recorded) announcements to your clients, stakeholders or employees
To launch a product and integrate your live presentations with power points, videos, and other presenters in different locations
---
experience our STUDIO 
 Physical Set – Up to 4 Presenters 2m apart with additional contributors on the big screens
This includes multiple cameras and sound capture for up to 4 presenters (although unlimited if we make the set wider) on stage at any one time. We provide everything: studio, camera's, audio and live-vision mixing and graphic overlays including PowerPoint and send to your 3rd party streaming platform. In this scenario we can also stream in another presenter from their remote location.

✓ Physical Studio backdrop
✓ Branded Print backdrop
✓ Digital and printed branding
✓ Stools and coffee tables / plinths per person if required
✓ Up to 4 x HD cameras
✓ Up to 4 x High quality Lapel Mics
✓ PC sound if required
✓ Studio front and back lighting
✓ Countdown Clock
✓ Slide advancer
✓ Presentation Laptop
✓ Streaming kit and operator
✓ Professional Vision mixer and operator
✓ Audio mix with operator
✓ Crew Comms
✓ Recording of the stream if required
Integrations with the following platforms:

---
HYBRID EVENTS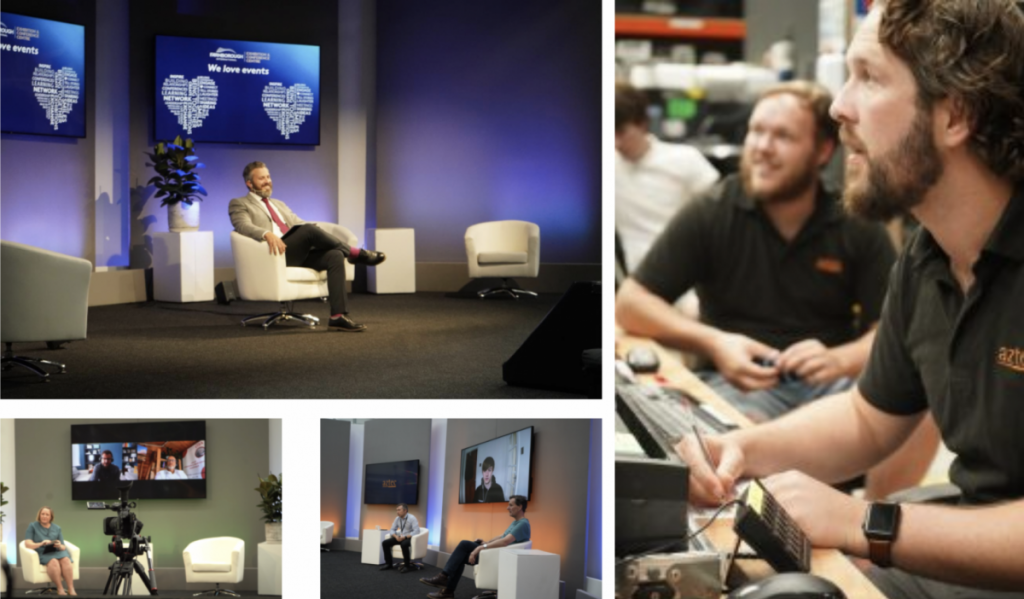 Package includes:
✓ Custom and stock stage set designs for live and online audiences
✓ Stage furniture
✓ Digital and printed branding
✓ Full lighting rigs for stage wash and stage set lighting
✓ Digital sound systems
✓ Selection of microphones
✓ Screens and video switching equipment
✓ Presentation aids (slide advancers, clocks, iPads and comfort monitors)
✓ HD Cameras, operated
✓ Streaming and vision mixing equipment
✓ Ability to remote presenters into the system for live discussions
✓ Ability to add name titles, logos and other overlays to the stream
✓ pre-production and coordination
✓ Crew to deliver setup, operate, dismantle, clear and collect
–
In addition to any of the above we will provide free parking, refreshments, complimentary wi-fi, a room to relax in and a production assistant who also acts as a social distance observer.
All crew will socially distance and all equipment (i.e. microphones) will be cleaned before handed over.
Due to social distancing it does not currently include Hair & Makeup but we can provide a dress mirror if required.
We can also set up the above in another location of choice (additional charge).
---
Basic Care Package
For any UK based presenters that can't make the studio but still want to look as good as possible on their home setup we can ship some equipment out in advance:
✓ High Quality USB broadcast Microphone
✓ Green screen or branded pull up Backdrop
✓ HD Webcam
✓ Pre-configured high spec laptop
✓ Desktop LED lighting
✓ Free Online 'How to' tutorial on how to set up and look great on screen
Please call +44 (0)20 7803 4000 or email hello@aztecuk.com to find out more details.
Based on a week's hire – enough time to set up and test!
In addition to this and when restrictions ease, we can provide a broadcast quality home setup including a lighting camera op and professional camera with encoder.
---
LAUNCH YOUR BESPOKE VIRTUAL EVENT